'This space should be packed' - Art exhibition - 21st to 25th of May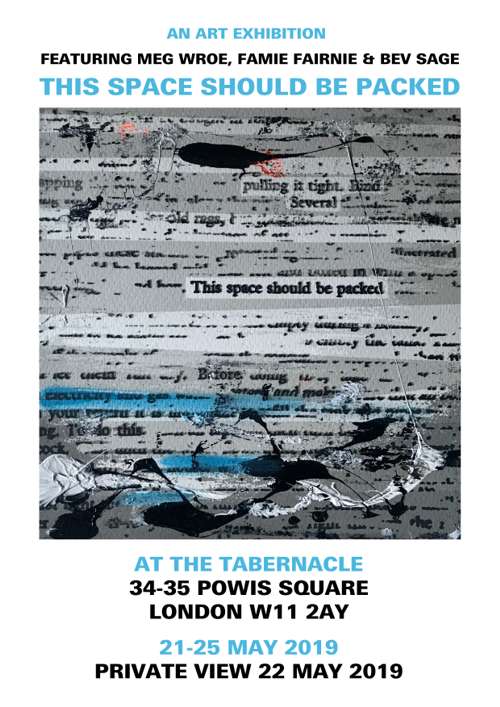 "This Space Should Be Packed" is an Exhibition of paintings, prints and mixed media from three creative women - Bev Sage, Famie Fairnie and Meg Wroe.
Bev Sage is a London-based artist who works with print, performance and sound. Her work contains layered gestural marks, underpinned with a lyrical rhythm, that reflects the universal abstract of graffiti-plastered urban landscapes. Sage has just returned from Italy where, in collaboration with her son Jake Fairnie, three short films are being screened at the Venice Bienale @Alive in the Universe, Casonova Museum, Venice.
Famie Fairnie, a graduate of Central Saint Martins and the New York Academy of Arts, was born around the corner from The Tabernacle. Now as an artist, she creates paintings layering challenging themes of absence, emotion and guerrilla tactics often incorporating auto-biographical references. Her work combines a fascination for street graffiti with childhood drawings, old notes, poetry, faded postcards and long forgotten letters.
For the first time, Sage and Fairnie – mother and daughter – have collaborated in this Exhibition to produce a series of prints – Flow and This Space Should Be Packed.
Meg Wroe paints on canvas or carved wood, her work focuses on a sense of wonder in the midst of the ordinary. Based in London, she visits Margate and the Isle of Iona regularly and has made a series of paintings of sea and sky. Her work has taken on a new dimension in light of the Extinction Rebellion climate protests, prompting her to change her rationale and re-name her paintings. The fragility of this beautiful earth is a wake-up call demanding a response.
Bev Sage @ www.bevsage.com
Meg Wroe @ www.megwroe.com
Famie Fairnie @ www.famiefairnie.com