HIGH MAS EXHIBITION - Gallery space 30th Aug to 15th Sept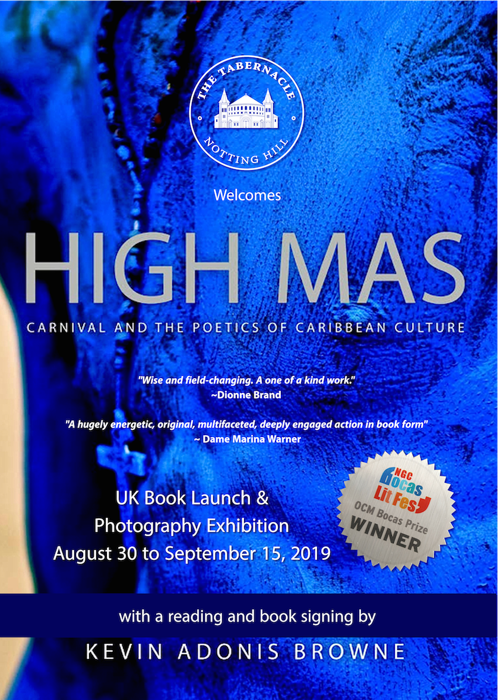 HIGH MAS at The Tabernacle is a book launch and exhibition of 25 fine art photographs from the book, HIGH MAS: Carnival and the Poetics of Culture. It marks the European debut of a project that has been hailed as "a hugely energetic, original, multifaceted, and deeply engaged action in book form" (Dame Marina Warner). HIGH MAS won the overall OCM Bocas Prize, a major award for literary books by Caribbean writers at the 2019 edition of the Bocas Literary Festival, Trinidad and Tobago's premier literary festival. Gary Younge, Editor-At-Large of The Guardian, writes that "HIGH MAS is impressive in scope, lyrical in style, and innovative in form. [It] impresses both as a work of literature and art. Browne peers into the soul of a people with whom he feels a deep kinship. The result is a radical, genre-defying tribute to a cherished tradition in the finest tradition of literary non-fiction."
Kevin Adonis Browne is a Caribbean American photographer and writer, and scholar of contemporary rhetorical theory, specialising in the visual and vernacular expressive arts. His visual and written work exist at the intersection of fine art, documentary, street photography, creative nonfiction, and memoir in what he calls "a discourse on the legacies of light as a way to understand the poetics of Caribbean culture."
Born in Trinidad and Tobago, he attended Presentation College in the southern city of San Fernando. After graduating in 1990, he emigrated to the United States, settling in the Bronx. He was awarded a Bachelor of Arts degree in English at Medgar Evers College in Brooklyn, later earning a Master of Arts in English in 2006 and a PhD in English in 2009 from The Pennsylvania State University. He has taught at the University of Wisconsin-Milwaukee, Syracuse University, and Bentley University. In 2017, he returned to Trinidad and Tobago, where he works at the University of the West Indies (St. Augustine) and as co-founder of the Caribbean Memory Project. Browne is the author of two books: Tropic Tendencies: Rhetoric, Popular Culture, and the Anglophone Caribbean (2013) and HIGH MAS: Carnival and the Poetics of Caribbean Culture (2018).
HIGH MAS at The Tabernacle will run from August 30th to September 15th, 2019.
Visit kevinadonisbrowne.com to learn more.
@caribbeanmemoryproject @thecaribbeanmemoryproject
highmas #carnival #kevinadonis #booklaunch #photographicexhibition #carnivalpoetics #tabernaclew11 #caribbeanwriters #trinidadandtobagoliterature #exhibition #fineart